Remodeling & Basement Finishing
for Your Denver Home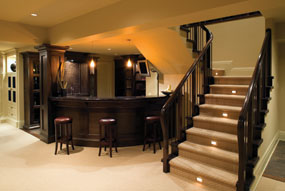 Room Additions: Room additions and remodeling in Denver are still a big part of our business because they're the most cost effective way to add space when your family is growing or you need a bedroom and bathroom for an older parent. Room additions can be a new kitchen addition, bathroom addition, or a new family room addition. If extending your home on the first floor is a problem, then we can add a second story to part of your home. Here is a description of some of the different kinds of room additions and remodeling we do in Denver.
Room Additions are always the most economical solution for a growing family and can be as simple as adding three new exterior walls, a foundation, flooring, ceiling and roof extensions, and you've got plenty of new space for a growing family, or the new family room you've always wanted.
Master Bedroom addition: this is another extremely popular room addition in Denver especially when all the bedrooms are on the second floor of a home. Additions of a bedroom, master bath and walk-in closet can be added to your home that will create a beautiful and enjoyable master bedroom that will also increase the value of your home.
[well]Alpine Companies guarantees the highest quality conversion at the best possible price![/well]
Raise house Roof: Adding a 2nd story to your home is also often one of the most affordable ways to increase the square footage of your home and many times it's the only option if you're already close to your property lines. The Alpine Companies in Denver have extensive experience with raising roofs because it's a natural extension of the engineering and work we do on foundations and basements in Denver.
Sunrooms: remember when sunrooms looked like boxes stuck on the back of houses. Not anymore! Sunrooms in Denver are still one of the most popular additions because they allow you to enjoy your backyard all year round and their beautiful now. Sunrooms or all season rooms as they are called are designed with the architecture of your home in mind so they'll always look like they've been there when your home was built. The Insulation property of sunrooms is impressive and keeps the temperature inside consistent without raising your power bill every month.
Room Alterations: small rooms in your home can become luxurious by simply removing a wall to create one large room, or great room. If you need storage space our designers can create storage areas with built in cabinets or a new closet. A room in your home that you thought of as to small can become a library after installing bookshelves and built in desk for computers and work areas.
Attics: can be converted to extra bedrooms or family rooms with the use of dormer windows or raising the roof on your home. Moving out walls 4' or 5' will give you much needed square feet of living area in your home; well give you a free consultation anytime.
Enlarge room: Too often there's a room that is not used because it's not large enough or poor traffic flow and by simply removing a wall that separates 2 small bedrooms you can have the sitting area or a large master bathroom with walk in closets. Many times it's as easy as adding a support beam in a ceiling without placing visible beams or columns in the rooms.
Bay Windows: adding a bay window can make a dark room into a well it and beautiful room with a view in your home. Imagine your living room with a floor-to-ceiling bay window that opens up a few extra feet and allows natural light to bathe the entire room in Colorado's beautiful light and scenery, and Window seats are also an inviting and comfortable seating space and you can put hidden storage space under them. Add a bay window to your bathroom and you'll really experience Bay windows at their best.
This is a great way to make more room for you and your family. It will also increase the value of your home without taking away from yard space or your houses original footprint. There are many options for your home's basement crawspace into an additional storage livable area in you Denver home:
[hr]
[well]Please call or CONTACT Alpine today at 303-797-8908 for all your remodeling needs![/well]
[hr]