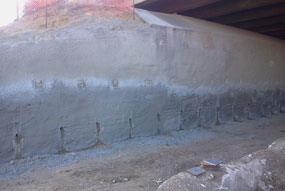 Soil nailing involves the insertion of slender reinforcing elements, generally rebar, into a slope to help treat natural, unstable soil slopes. This construction process can also be utilized to allow for the safe over-steeping of soils, either new or existing.
First, access holes are pre-drilled into the soil with a slight downward incline. Then, a soil nail (reinforced steel rod or rebar) is inserted into the pre drilled hole. Then the drilled hole is grouted with a specialized grout pumping process. Once the soil nails are installed and grouted in place, a process called shotcrete is used to spray concrete over the top of the soil as well as the installed soil nails. The shotcrete will permanently lock the soil and soil nails into one another to allow for safe access and construction.
Soil Nailing can be utilized for both commercial and residential applications.
Soil Stabilization
Slope Improvements
Retaining Walls
Sinking Foundations
Tie Back Systems Similar to Helical Piers and Tie Backs
Bowing Foundation Walls
Preservation of Natural Areas
Bridge Stabilization
Shoring of Walls During Repairs
Earth Retention System to Assist in Deep Excavations
Benefits of Soil Nails
Installed with small scale equipment
Quick installation process
Helps to prevent ground loss
Minimal soil displacement during process
Can be installed underneath existing structures
Process can be used as either as a temporary or permanent system
Alpine Companies also supplies all the engineering needed for your soil nailing projects. Give Alpine Companies a call today at 303-797-8908 for a free estimate on your next soil nails project. Or, click here to contact us via email.