The Lowell conversion project is much needed space the homeowners needed as extra living space as well as future equity in the sale of their home. Located in a beautiful up and coming Denver district of restaurants and shopping. Alpine Companies won the bid by having more foundation repair experience and crawl space conversions than the other bids they received to do the crawlspace to basement conversion. The new basement will be around 600-800 square feet, with one new egress window.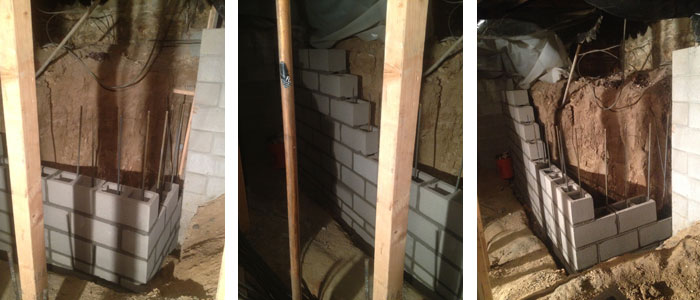 Above are 3 pictures of this project's footing and foundation residential structural engineering design and installation process Alpine Companies goes through to make sure your project will be completed per your specifications from beginning to end. Alpine Companies has used every design build combination possible to ensure the proper completion of your crawl space to basement conversion project. This particular project was chosen to have poured footings with rebar installed in every cell of the cinder block wall. After the new foundation wall is built we will then pump the cinder block cells full of 4000# PSI concrete. Once the new concrete footings and foundation walls have been installed we with then pour the new basement floor.
Project Photos
These pictures show Alpine Companies drilling into the newly poured concrete foundation walls and anchoring the new rebar into those sections. Once the rebar grid is installed we then deliver the concrete and pump the concrete with our own concrete pumps. Once the concrete has been pumped we smooth trowel finish the concrete and cut new control joints in the concrete to help with any cracking that may occur in the future from normal expansion and contraction of the soil beneath the concrete basement floor.